Episode Notes
This week on Tummelvision Umair Haque talks with us about his book The New Capitalist Manifesto, the imbalanced state of the union, Silicon Valley's disruption deficit disorder, and much, much more.
Umair is an old pal of the tummel-crew. Four years ago when I first met Umair  we both had a meeting of the minds on the fundamental shifts impacting business and culture in a networked world.  Our major rant at the time was that this is much bigger than new technology and a new distribution channel.  People were missing the point that social software and the social web are changing the rules – they are empowering individuals and groups and slicing into old economic models. This still holds true today.  Most businesses are still trying to slam the proverbial square peg in a worn out old round hole while missing the fact that the hole is not round anymore and the peg – well it is now comprised of lots of little pegs [ok -done beating a dead metaphor].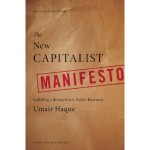 Umair  has been shaking things up with his great blog over at HBR and has just published his new book The New Capitalist Manifesto where he lays out many of these fundamental changes. We are proud that Tummeling fits right into the midst of it all.   Please join us this Thursday for our live chat and podcast where we discuss Tummeling Capitalism – two words that many people might think are at odds with each other when in reality they go together like peanut butter and chocolate!