All posts tagged advertising

Podcast: Play in new window | Download
Episode Notes
The TummelVision gang visits with an old friend, Doc Searls, co-author of The Cluetrain Manifesto and a fellow at the Berkman Center for Internet & Society at Harvard University.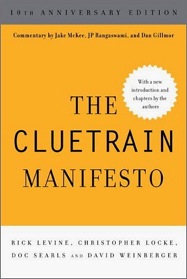 Some of the ideas, stories, and links mentioned in this episode:
The new "social web browser" RockMelt
Novelist Zadie Smith critiques social networks in the New York Review of Books
Intelligent responses to Zadie Smith from Alexis Madrigal and Ross Douthat
Doc on Walt Whitman
Randy Farmer on why "The Cake is a Lie" – Reputation, Facebook Apps, and "Consent" User Interfaces
Doc on the "Data Bubble"
The Wall Street Journal series on web privacy "What They Know"
A call for a new "Consumer Bill of Rights"
The Vendor Relationship Management Project wiki
Kevin Kelly on the Internet as an enormous copy machine
On the meaning of "trust" in digital parlance.
Be sure to follow Doc Searls on twitter and via his myriad projects.